Trains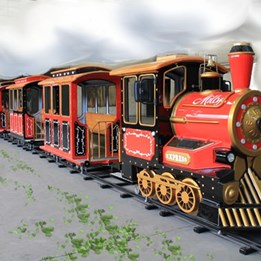 One of the easiest ways to keep the kids still for a short period is to sit them on a kid's train ride and have them enjoy the views. Train rides around the venue can come in a wide range of sizes to accommodate the space available and with our cute little trains, the kids will love have to sit down for a bit while they ride behind them.
Train rides have been an integral part of funfairs for generations and the small electric engines now in the trains means they can operate in a host of locations. Arriving at a venue and seeing a little train will instantly involve the kids and most of the adults love the excuse to join in too.
Taylor Leisure provides this ride to hire across England, Scotland and Wales.
Contact Us
Please contact Taylor Leisure via the details or online form below:
Glasgow: 0141 374 2175
Edinburgh: 0131 224 0304
Enquire about our Trains
There were some problems with your form submission:
Thanks for your message! We will get back to you ASAP!