Kiddies Rides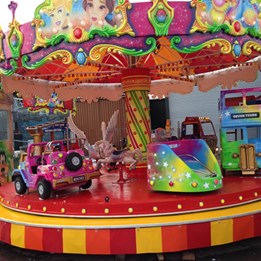 From miniature carousels to slides and even small helter skelter slides, kiddie's rides are a crucial component of any fairground or funfair and many events. Catering for the junior and senior school age kids can be tricky but catering for the smaller kids is simple – if it looks bright and colourful with a bit of music thrown in they will love it.
Our range of kiddies rides ensures that the smallest visitors to the event have plenty to choose from. This includes carousels with familiar features for their seats, including cars, buses and fire engines. We also have a number of miniature versions of bigger rides so there is always plenty for the little kids to enjoy.
Taylor Leisure provides this ride to hire across England, Scotland and Wales.
Contact Us
Please contact Taylor Leisure via the details or online form below:
Glasgow: 0141 374 2175
Edinburgh: 0131 224 0304
Enquire about our Kiddies Rides
There were some problems with your form submission:
Thanks for your message! We will get back to you ASAP!