Crazy Frogs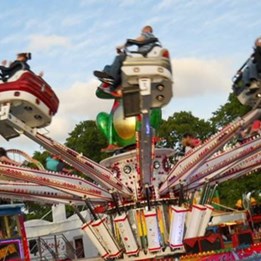 Crazy Frogs is a ride for the older kids, usually around age 10 or above and is a thrilling motion ride where the kids and moved up and down as well as swinging around the centre console. In fact, the movement is a bit like a frog hopping along, jumping up into the air as it goes!
When the kids arrive at the fairground or event, the older ones always start looking for the 'big' rides as opposed to the Aqua Boats or other gentle rides. The Crazy Frogs is one ride that always attracts their attention. Who does love getting thrown through the air strapped into a seat as if they were a mental amphibian!
Taylor Leisure provides crazy frogs hire to England, Scotland and Wales.
Contact Us
Please contact Taylor Leisure via the details or online form below:
Glasgow: 0141 374 2175
Edinburgh: 0131 224 0304
Enquire about our Crazy Frogs
There were some problems with your form submission:
Thanks for your message! We will get back to you ASAP!