Ice Cream Hire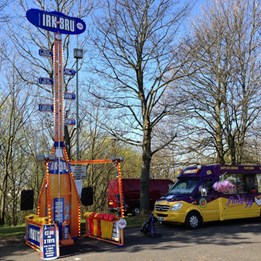 Who doesn't love a visit from the Ice Cream Man? But how many times does he turn up when you are eating a meal or doesn't come when you are having an event? The routes of ice cream men can be a bit of a mystery to all but themselves. However, there is an easy way to ensure the ice cream man is present when needed – hire your own.
Part of our fairground ride and hire service includes the ice cream van hire that means you can have a van at your event exactly when you want it. Kids love to go and get an ice cream and everything on our van is the best quality. Our professional staff can play the ice cream man or woman perfectly too.
Taylor Leisure provides ice cream van hire across England, Scotland and Wales.
Contact Us
Please contact Taylor Leisure via the details or online form below:
Glasgow: 0141 374 2175
Edinburgh: 0131 224 0304
Enquire about our Ice Cream Hire
There were some problems with your form submission:
Thanks for your message! We will get back to you ASAP!